In 1985 Scott's father came home from a work trip with a surprise, it was a Commodore 64. As well as using Apple II's at school. Scott developed a real passion for some of the earlier technology of the 1980's.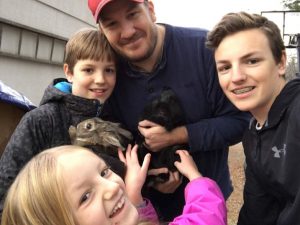 In 1992 while in High School, Scott Welch founder of GalaxyPlace and Great Planning Tech, put together his first computer – a simple 386 PC running DOS and Windows 3.1. That experience built the foundation for a long-term passion of fixing computers, from trying different parts, reformatting, reloading and experimenting.
In 1996 Scott started working for people fixing their personal computer issues, from setting up dialup modem connections, adding memory to reinstalling windows.
In 1997 He took on a support technician position at a local Internet Provider in St. Johnsbury, VT.
In 1998 a short stint at UVM's depot repair department and Fletcher Allen as a service tech, both in Burlington, VT.
In 1999 became the Network Administrator at Dynapower Corporation in South Burlington, VT. In 2001 became the Network Administrator for a small website developer in South Burlington.
In 2002 he incorporated GalaxyPlace and went 100% on his own to do website design and computer support.
In 2004 moved his young family and GalaxyPlace to Bradford Vermont to be closer to family and then in 2006 to Fairlee, VT.
In 2014 in preparation of closing GalaxyPlace, he started Great Planning Tech, a new name and new goals moving forward.
In 2016 opened a new office location at 214 Main Street in Bradford, VT.
In August 2019 moved to a new location at 807B Upper Plain in Bradford, VT. The previous location of his families long time Florist and Greenhouses business Shearers Greenhouses. Which operated from June 1925 until closing February 1st 2018. Maintaining a family run business at this location each year since 1925.